PDF Download Page
Steve Lovely's Whistle Drawing Download here
Slide Whistle Drawing Download here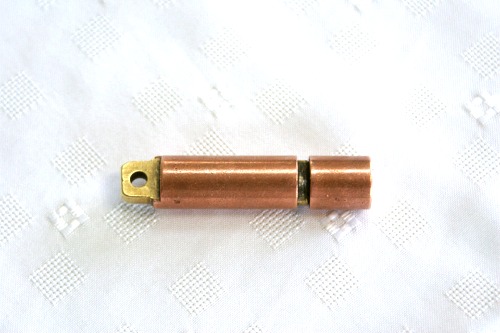 DXF drawing of the jig shown 1A, 2A, 3A and 4A
This sequence shows how I make these whistles. You may find a better way! If so please let me know! Several fellows have made their whistles using aluminum for the core and copper tubing for the outside. If you do this be sure to have a good press fit on the fipple. Good luck and I hope you get a good deal of enjoyment from making your Steve Lovely whistle.
Other Stuff
Three Wire Thread Formulas 14 August 2008
Drill and Tap Chart sent by Steve Smith of Brownville ME This is an Excel file.
This method of making graduated collars was contributed by Mike Burdick. It is posted here with his permission. Added 14 October 2006
An email from member Bill Brackett had these .DOC files attached. This text describes them:
I have a copy of 'Shop Theory' from the Henry Ford Trade School that I
got from the museum. While browsing through the book I came across the
attached tables. They contain all the drill sizes from #80 to Z in
order and include metric units. I thought this was pretty broad minded
and far sighted of Henry back in 1944 to include metric units in the
table
Thank you Bill for taking the time to contribute this useful information! I have taken the liberty of also putting them in PDF format so that folks like myself can zoom in on the small text.
Decimal Equivalents of Drill Sized 1 (Word .DOC 488KB)
Decimal Equivalents of Drill Sized 2 (Word .DOC 488KB)
Decimal Equivalents of Drill Sized 1 (PDF 6599KB)
Decimal Equivalents of Drill Sized 2 (PDF 6599KB)
Unit 54 Tapers and Taper Turning
NL Day Article 15 September 2002
MTO Indexing information (3939KB)
Tangential Wheel Dresser (J&S Fluidmotion 2003 KB)
Angles of a 1 in 10 and 1 in 20 taper
9 March 2005 While putting up new book shelves to get things out of boxes and off the floor I found the Ellis Dividing brochure I had been searching for. I have re-scanned the brochure and re-posted it.
Ellis Dividing Head Brochure Front of page
Ellis Dividing Head Brochure Back of page