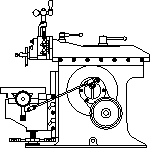 Shaper of the Month
John Rouche's Logan 7 Inch

Logan 7" Left Photo by John Rouche
This month's story is one of acquisition and rebuild. John Rouche from California submitted this story about his 7-inch Logan. This is quite interesting to me because I owned a 7-inch Logan for a couple of years and just recently acquired an 8-inch Logan that I have just started rebuilding. Here is his story. In the first part, he is addressing the folks in the Yahoo metal_shapers group.

Logan 7" Right Photo by John Rouche
"I am new to this group and to the wonderful world of Shapers. I have a nice South Bend Heavy 10 lathe and enjoy it thoroughly. I am not a machinist, just a hobbyist in the garage. I love the old machinery the U.S. produced throughout the years and shapers just have that mechanical appeal to me. So, I have been lusting over the fine machines you all have.
I was interested in the South Bend shaper. I thought it would make a nice companion to the lathe. Imagine my surprise when I saw one on eBay. So I watched and watched as the price went from a reasonable couple hundred bucks to $1100. I thought it must be a bidding error. So I looked at the bidder list. It's for real. Well I'm thinking there is no way I am going to be able to afford a shaper with the "rich" folks buying them up for who knows what.
I called the local used machinery dealers and there was nothing available. It seems they are interested in stocking larger machines for the moneymaking industry, not enthusiasts of smaller machinery like me. After several calls I talked to a dealer who said there might be a shaper available in a "lot" he was interested in. After several weeks he didn't get the "lot". I asked him for the info of the owner of the shaper. He gave me a general description of the business where the possible shaper was stored. The directions included landmarks such as trees with no leaves and fences to keep in the dogs.
My pulse raced as I jumped in the Honda and headed for shaper heaven. I found the shop, or should I say abandoned building. My luck was holding out, I saw the owner. He was a nice man running his wood molding business. I asked about a shaper that he might have, referencing the info from the "dealer". He said, "No, I don't think I have one". Begging again, I asked if we could look. His shop has about 15 or 20 pieces of machinery, half of it looked like it wasn't being used. He took me to an old (ancient) shaper. It was driven by an electric motor and used wide flat belts. It was an open type construction with thin castings and quite large for its capacity. I told him I was looking for a "newer" machine. A stroll through the area produced nothing. So, we are standing there talking about his business (fascinating, but not shapers) and I'm still scanning the floor for "my" shaper when I see a "hump" of the ram I was so intent on finding. It was much smaller in real life than I imagined. I had never seen a shaper in the real. Not looking excited, I quickly cut him off from his discussion and headed to the "hump". Sure enough, it appeared to be a shaper but was covered in a nice thick coating of what I will call "preservative": old grease and wood sawdust.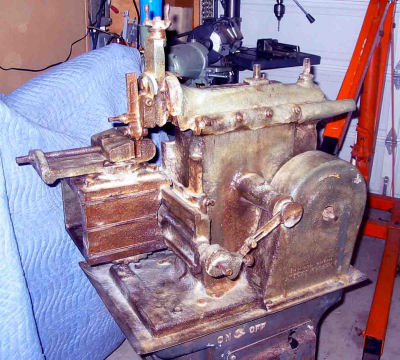 Logan 7" Before Photo by John Rouche
I looked the machine over, trying not to look desperate when I asked him "do you know what make it is" as I scurried over to the left side of the machine. He said he didn't know the manufacture just as I laid eyes on a manufacturer's tag - Logan. Wow, I said to myself, I just found a Logan shaper. I said "How much". He said he didn't know if he could sell it. Heart, jaw and excitement all dropped. I continued to pester him on the sale of the shaper. He said there was another guy interested in it and he was offered one hundred dollars for it. I thought I was sunk. Then he said "seventy five dollars". I looked around (real quick) and said oh, ok that sounds good to me. I reached down to his side, grabbed his hand, and shook the heck out of it, sealing the deal in my own way. Of course, I'm in the Honda and without seventy-five bucks so off to my wife's work to gather up the Toyota. This was Friday. I didn't want to wait through the weekend, and I needed something to tinker with this weekend.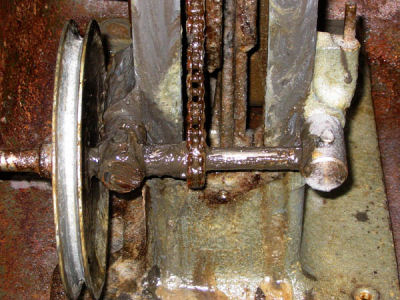 Chain Drive Before Photo by John Rouche

Chain Drive Before 2 Photo by John Rouche
Unlike my normal luck, when I returned with my truck, he was still there. We slid the shaper onto the forks of his forklift, then walked it out to the truck, which is only a Toyota four runner. He looked at it and said, "are you sure it's going to fit?" The shaper, which had appeared tiny and light, was growing by the second. Sweat beads were starting to form. I remember the feeling when I bought the South Bend 10 inch lathe and loaded it in the Toyota. I felt the same way. Well after a little excitement and pushing, we finally got her in, only halfway. I said, "looks good". I proceeded to tie the five hundred pound machine down to whatever wasn't moving. As a final cap, I tied the hatch door down against the shaper, which was still hanging half out of the car. The 20-mile ride home was nice and bouncy.

Chain Drive After Photo by John Rouche

Chain Drive After 2 Photo by John Rouche
Thank God for my close proximity to Harbor Freight. I think I own every tool that has gone on sale, including the engine hoist. A simple matter of patience and forethought will get you through most heavy moves. I didn't have either; I wanted the shaper on the ground and right now, not because I'm impatient, but because I had this extremely heavy and greasy piece of cast iron in my wife's trunk and she was on her way home. I should get a truck.

Vari-Drive Before Photo by John Rouche
So more nylon straps and I attempted the lift. Oh yeah, I'm on a slight slope. So as I lift we move forward. The shaper, the lift and I slid toward the car. Place my feet in front of the lift wheels acted as chocks. It worked, as did yanking and tugging. Picture you and your dog playing tug of war with a rope. You know how they put their whole body into it with their front side down and the back side jutting up and down and front to back. That was me tugging.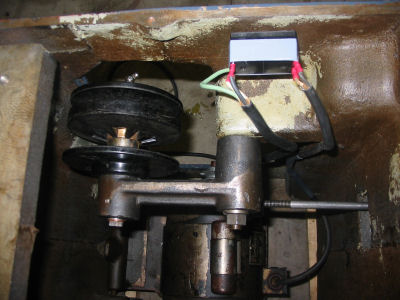 Vari-Drive After Photo by John Rouche
Eventually I made it up to the garage with it still in the horizontal position. I lowered it to the ground and released the straps at the bottom of the shaper. Then I raised it again just lifting the top. After it was up on the pedestal, it was not too hard to slide it around the garage floor. I started taking pictures of it. I wanted to remove some of the heavy crunchy grease and sludge before I moved any of the slides. I didn't want to grind the sludge into the ways. Then I went back downstairs to wipe the sludge off and see what I have."
After a month and a half John reported back in to the group that his project was finished. He reported that the shaper runs great. He had to replace some fasteners including the square-headed gib screws which he replaced with allen-head set screws to give it a cleaner look and reduce the chance of a screw head tearing his body parts.
John reports that after adjusting the tension on the chain, he made a new jack shaft and bearing. The adjustment was done with two long setscrews that push the jack shaft forward or backward and apply tension to the chain as well as squaring the jack shaft to the machine. The set screws are in the casting of the machine. Now he says the drive is fairly quiet. He tried several lubes for the chain including bicycle and motorcycle chain lube then settled on LPS #3. This lube dries to a kind of waxy substance. LPS #3 is available from Home Depot:
www.lpslabs.com/Products/CorrosionInh/Lps3.asp
John replaced all the Gits oil cups. He installed new felt wipers and rewired, keeping the original motor and switch. Then he used Jasco paint stripper (available from Home Depot) which is very strong stuff:
www.jasco-help.com/products/prod_rem.htm
Next, John used a pressure washer and soap to neutralize the stripper. After stripping there was only one small area with original factory plastic filler that he reworked with filler. John left the rest as original because it was in good shape from the factory. The orange/red primer in the pictures is Frazee metal primer #661 which is recommended for their paint Aro-plate II. John says it is the best metal primer he has used. John had the paint computer color matched to a pristine section of the inside of the door:
www.frazeepaint.com/flocations.html

Base Before Photo by John Rouche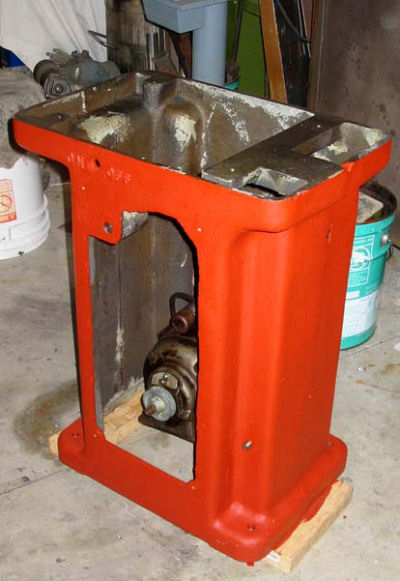 Base Primed Photo by John Rouche

Top Before Photo by John Rouche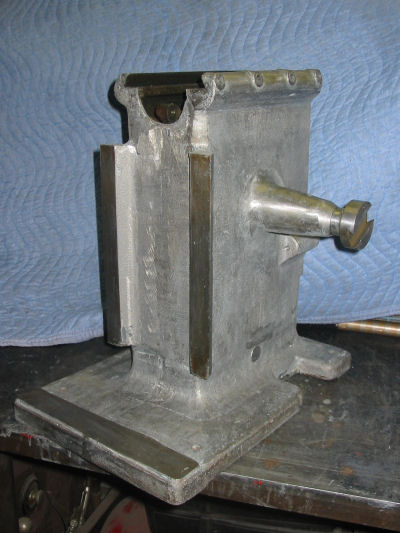 Top Stripped Photo by John Rouche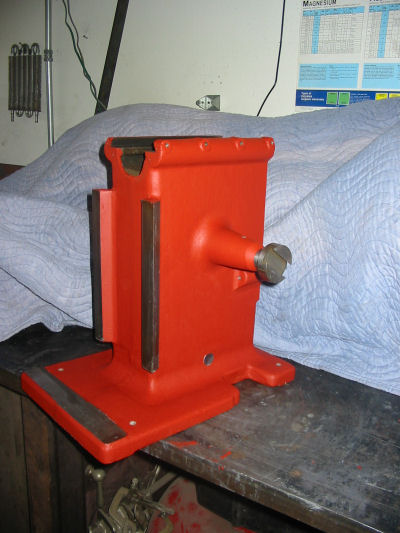 Top Primed Photo by John Rouche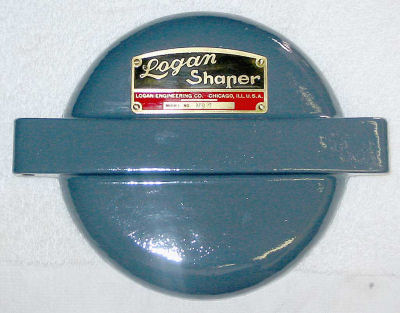 Door Finished Photo by John Rouche
Thanks John for that great story and sharing your successful rebuild.
Keep sending me email with questions and interesting shaper stories.
My email address is KayPatFisher@gmail.com.