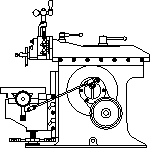 AMMCO acquisition

From Steve Bachanek, in Ontario Canada I received this acquisition tale and some reviews of more shaper documentation.

"I have been looking for one of these small critters for the last two years without having to go to great travel or shipping costs. Being in Thunder Bay, Ontario (NW shore of L. Superior), we are kinda isolated from large cities and industrial areas where surviving wild shapers roam.

One of the comments on your site referred to the silliness of anyone being unwilling to travel a thousand miles if necessary to get something he really wants. Hmm. Made me think carefully about that.

My ship came in - in the form of a 6" AMMCO that was being sold off from a retiring machinist in a town only a couple of hundred miles away.

It was the smallest item in his shop, which was set up to repair mining equipment. His small lathe was a 16 inch South Bend and the large one was a 24 inch Progressive with a 3 inch hole in the head stock. They will probably be for sale for some time to come, given the logistics involved in moving them any great distance.

The shaper was in fine shape as it had retired from its keyway cutting a few years ahead of the owner who subsequently used a milling machine.

It was no problem to break it down into three parts: motor/pulleys, shaper, and shop-made steel stand. That way, I only got three smaller hernias :-) Well not really - the spouse helped and I'm going to owe her big time. Seriously though, any machine should be disassembled as much as possible both for its safety as well as yours. Sermon ends.

I believe my model was actually produced by AMMCO before they sold the production line to Rockwell. It differs some from the one shown at the web site www.lathes.co.uk/ammco/index.html. This one has a v-belt from motor to jack-shaft but a three-level flat pulley from jack to shaper. Yes, it really appears to be original. Someone has painted the shaper green but the underlying fire-engine red shows through in several places on the shaper and motor mount/spindle.

I surprised myself by locating a local source of flat belting. Theirs was identical rubber and canvas-like material but 4 ply. They showed me how to remove one ply to match the existing 3-ply belt and install the toothed hinge connection. In case anyone wonders, that fourth ply makes it a bit too stiff for this little machine and is marginal for clearance between the large fat flat pulley and the machine parts at that end.

The one thing missing other than the belt guards is any instruction manual.

[I sent a copy of AMMCO/Rockwell documentation to Steve - KRF]

I will make new safety guards. Will keep in touch as I get it cleaned and reassembled and back in operation.

As for your shaper reading reference section, the following books contain shaper information of good utility.

These first two are of the textbook variety and each contains a shaper chapter with useful charts and instructions. Both are likely out of print but can be obtained from the used book resources on the Internet.

Machine Shop Theory and Practice revised edition (1989) by Fred H. Hallett, the Macmillan Company of Canada Limited Toronto. [no ISBN]

Machine Shop Training by S. F. Krar and J. W. Oswald, McGraw-Hill Ryerson Limited. ISBN 0-07-548951-1

The third listing is a two-volume set with more shaper info than the others. The shaper is covered in the second volume, Part Two. This two-volume set is a goldmine of info on all the machine tools and their accessories in its roughly 1200 pages and I would strongly urge any HSM to try to get one through used book resources.

Machine Tool Operation by Henry D. Burghardt, Aaron Axelrod and James Anderson. Webster division, McGraw-Hill Book Company.

Part One contains the following divisions: Safety, Measuring Tools, Bench Work, The Drill Press, The Lathe, and Forge Work.

Part Two contains the following divisions: The Shaper, The Planer, The Milling Machine, The Grinding Machine, Hydraulics, Metal Band Saws, Metallurgy, and Cutting Fluids.

And a whole lot more like how to drill and lace a leather flat drive belt in a very special sequence. The kind of stuff that is being lost to common knowledge."

[After receiving a copy of the AMMCO documentation Steve replied]:

"The two PM-1737 manuals for the Delta-Milwaukee (1950) and Delta (1955 update) arrived today and will be invaluable to me in ensuring the proper lube and adjustment of my AMMCO.

As expected, my AMMCO is fairly identical to the later Delta variants except for the flat belt pulleys and different drive unit.

But I was really surprised to see that the Deltas have a side mounted crank-elevating screw, driving miter gears to raise or lower the shaper table. Mine has the crank on a shaft directly underneath the unit, requiring a hole in the bench top, but obviously not needing the miter gears. While the Delta's newer placement of this crank is more practical, the old style is no big deal to operate. But the Delta's newer location does have the portability advantage of being instantly movable to any solid bench or table top, without having to bring a drill for a hole.

Using mine on the kitchen table (and drilling that hole) would be hazardous to my health, although it would make a good story after I regained consciousness."

Thanks Steve for that story and the shaper book reviews.

Keep sending email with questions and interesting shaper stories.

My email address is KayPatFisher@gmail.com.