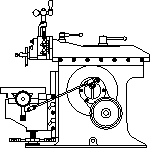 As you are by now all well aware my original intension was (and still is) to write a book about shapers. In compiling data for that book and this column I have had several ideas cross my mind for a proper title. Below is a list from a chapter called "Fun Stuff". If you have any other suggestions please get them to me. I would hate to have missed a really good and frivolous idea.
Alternate Titles for this book
To Shape or Not to Shape — That is the Question.
Metal Shapers for Dummies
Idiots Guide to Metal Shapers
Shape Up or Ship Out
The Shape of Things to Come
The Shapers Bedside Reader
Harry Potter and the Wizards Shaper
From Tabloid Headlines
Elvis Spotted at Shaper Convention
Nostradamus predicts Shaper 2000 years before...
Aliens Abducted My Metal Shaper
Women Impregnated by Alien Shape Shifter
Secretary Confirms President Was Alone With Metal Shaper
President Declares March as Valuing Shaper Diversity Month
El Nino Causes Upturn in Shaper Sales
Song Hits
No Matter What Shape Your Stomach's In
Shaping by the Dock of the Bay
Keep sending email with questions and interesting shaper stories.
My email address is KayPatFisher@gmail.com.