White Creek RR
Cedar Creek MI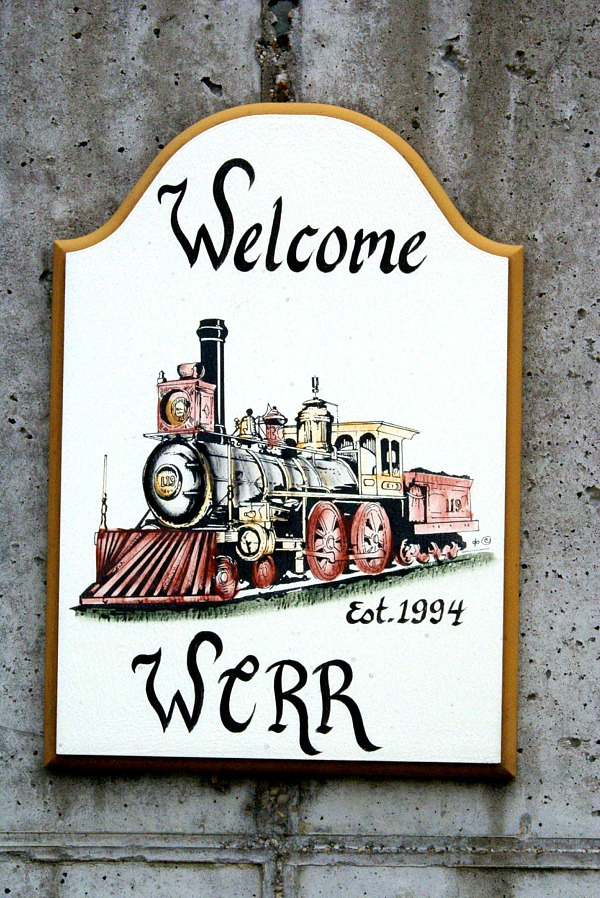 White Creek RR Part 1

White Creek RR Part 2
White Creek RR was the third stop on our 2009 summer odyssey Norm and I left Oshkosh on Friday morning and motored south past Chicago and north into Michigan to Cedar Creek. We did not have reservations anywhere having decided to "wing it" for the day. We got north of 'Grand Rapids and started looking for lodging for the night. Motels were few and far between it turned out and we were luck to find an AmericInn in Greenville which it turns out is not far from the track.
On Saturday bright and early we headed to the track and found it easily thanks to the excellent directions sent by Carl Baskin of the Illinois Live Steamers. White creek is a privately owned track and one does not just show up without invitation. It took some cell phone tag to accomplish but I received an invite from Russ Eldred the track owner to visit and he made us feel welcome as soon as we met. Russ invited Norm and I to ride his train for a tour of the track and introduced us to the beautiful grounds that are White Creek.
I don't think that I have ever visited a track where the folks were more friendly than White Creek. Everyone was most welcoming and made us feel right to home. Thanks to all who received us so graciously!
One note: WCRR is a 7.5" gage track so if you are am east coast operator and want to load up and drive to Michigan to run at this wonderful track you are probably out of luck.
Updated 14 August 2009 with NORM JONES PHOTOS
Spotted through out the track are small towns each with a water tower and several small buildings. Russ runs several card operations sessions throughout the season. On these days participating engineers pick up a load of cars in the yard and have to deliver them to various sidings around the track. They pick up cars that are on these sidings and return them to the main yard. At the same time there may be several passenger trains running and the freight haulers should not block the mainline or disrupt the passenger traffic. Sounds very neat!
Now here is something I have never seen before at any track. A pedal powered, I don't even know what to call it, but this guy sure seemed to be having fun.
Also from Tim Childs (see text below)
I noticed on your web site one of the pictures is a guy riding a pedal bike thing on the rails. That's Larry Kepner from Harbor Springs, MI. We call those rail bikes or rail-cycles. They're made by cutting up a bicycle and mounting it on a frame of 1" square tubing, and a second set of bike gears completes it. A guy from Wisconsin, Brad Smith, brought the design back from the west coast and improved upon it. Larry and I got Brad's plans and we both built bikes last year. They're fun and surprisingly easy to ride. When I first rode one I thought I'd be huffing and puffing up the hills, but it's actually easier than riding a regular bicycle on the road.
Norm Jones (L) and Russ Eldred

The above photos and this one were taken in Corner Town (see attached map) A station shelter and, in the small building, flush toilet make a nice picnic area that railroaders can enjoy.
These photos are in the Hidden Valley yard.

The green hopper in the background is for filling gondola cars to transport ballast around the track. I noticed that WCRR uses a pea stone sort of gravel instead of the crushed limestone common in the east.

8 August 2009 Update from Tim Childs
My name is Tim Childs and last week at the White Creek Railroad someone (you?) asked me to send you some info about my Atlantic, the Empire & Southeastern #4.
The locomotive was built by myself and my father, Donald L. Childs. Dad is the machinist in the family, so the bulk of the credit goes to
him. My role was apprentice shop sweeper, lifter of heavy objects and fetcher of things, occasional machine operator in charge of mundane
repetitive tasks, gadfly, and etc.
The chassis is a Little Engines kit that someone started back in the late 50's or early 60s. We bought it about 1994 and it first ran
seven years later on September 16, 2000. The Little Engines design called for a 9 inch boiler, but we made ours 10 inch and we also made
it 2 inches longer in the firebox. The cylinder castings are Wagners that were intended for much larger locomotives (the guy we got them
from was going to use them on a 4-8-4 but they didn't fit his frame). They could be bored out to 3.5 inches but we've only got them at 2
5/8, so there's a lot of extra cast iron up there. There is a chain drive "booster" to the trailing truck. The result is a very heavy
locomotive with exceptional pulling power for it's size. It will easily handle 6 and 7 car trains of which 5 are loaded with passengers
over the White Creek Railroad.
Feed water is pumped by a two cylinder axle pump and one super scale economy injector.
Fuel is coal, which explains why it's covered in ash in the photos. The thing in the stack is a spark arrestor that we use when things are
dry, and things were dry that weekend. The valve gear is a Southern. We picked it because is was different and because it required the fewest complicated parts.
Here's my web page about it with more info:



WCRR is a great family day out
Roy and Eddie were able to score a ride with these kids. The little girl reported that Eddie was frightened in some spots but she reassured him. I think that Ed just put on a show so she could feel needed. He is, after all, a train riding veteran.
There is an abundance of camping area available for long weekends.









Steaming bays and transfer trolley.

This young fellow is a high school student and spends his railroading whenever he can.
These photos show the engine storage barn. As you can see there are 15 tracks leading into the barn with embedded track for storage of engines and cars.

This set up demonstrates the operation of the track signaling system. When you approach a block of track the signal light is green. Tapping the switch "claims" the block and turns the light amber, the light at the other end of the block turns red and it is safe to proceed. When exiting the block tap the switch upon exiting and that releases the block for someone else to use. Very simple and functional as long as folks remember to release the block!
This track leads down from the storage barn to the main lines.

Looking down from the storage barn into part of the Hidden Valley yard.
This little guy holds his sign at the Maplewood junction.