William G Mather
Great Lakes Ore Carrier
After our visit to Ohio Brush we decided to go downtown Cleveland so I could pick up a couple of George Thorogood and the Destroyers CDs from the Rock and Roll Hall of Fame which is on the waterfront in the city. I had mentioned to Norm that my wife and I were going to a concert by that group on 16 August. Norm was not familiar with the group so I took the opportunity to expand his musical horizons. When we got to the RnR Hall of Fame I remembered (when I saw it) that the freighter ship was moored there and we decided to visit it. The Mater is a retired lake freighter and is open to the public for a nominal fee. The visit was well worth the time and the self guided tour let us learn quite a lot about that type of ship. There were several docents in different areas of the ship to answer questions and explain details of the ships operation.
The slightly taller thumbnails are Norm Jones photos, thanks Norm for the pictures!
We will start off with a few photos of the area around where the ship is moored.


Don't know what is being mined here near Chicago but it sure is a big hole in the ground.
The flower displays are much more attractive in the summer than when my wife and I visited the area on our way to NAMES back in April
One of the high points of the complex is the stadium where the Cleveland Browns professional football team (the real kind) plays.

The wind turbine is part of the Great Lakes Science Center's exhibit on renewable energy. Also included are an array of photo-electric panels.
This monument commemorates the sacrifice of firefighters in the Cleveland area.

View from the lobby of the Science Center onto the lake.
Adjacent to the Science Center is the Rock and Roll of Fame.
Big whistles



The engines in the center of the photo are used to haul back the heavy steel cargo hold covers.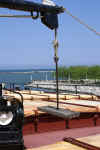 When you look over the side of the ship and visualize what it must be like to be lowered to the dock on this contraption it makes me glad I am not a sailor. As is often the case I have nothing but respect and admiration for those who do the jobs necessary to keep the wheels of commerce turning.

A small galley
View of the Lakeside Airport

RnR Hall of Fame

Downtown Cleveland

Captains office and sleeping quarters
View from the bridge toward the stern

View from the stern toward the bow
Manual winch
Hatches with thick skylights provide ventilation and light into the engine spaces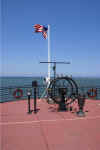 Emergency steering wheel. It took four men to man the wheel.

Company big wigs stateroom

Visiting dignitary dinning space
Bill of Fare


Ships officers dining space
Ships galley and crew dining space


Ships tiller and accompanying winches


(L) View of the engines (R) Propeller shaft (not a great shot, the flash on my camera doesn't have the reach for it so I braced the camera on a solid surface and hoped for the best)


(L) Oil burner (C) One of two oil tanks (R) toll board in the engine spaces
Photography is not permitted in the Rock and Roll Hall of Fame but pictures can be taken in the lobby. These are props that were used in various arena shows