EAA Fly-In and Convention
Oshkosh 2006
These are some assorted pictures I took at the fly-in.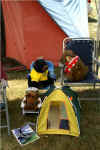 (L) The brown bear with the patriotic neck scarf if Roy's cousin Dr. Annie. Roy Bear in his yellow shirt and Eddie Moose wearing his vest. The boys look forward to seeing Dr. Annie at Oshkosh. She comes to Oshkosh with my friend Tom Horch from Marysville OH and is personal physician to Tom's daughter Molly.

Tom arrived this year with this scratch built "teardrop" trailer. Popular in the 1930's they are making a comeback and may be purchased new or built from plans or, in Tom's case scratch built. As the right photo shows Tom was visited by any number of folks who were interested in his project. The trailer is beautifully built and can easily be mistaken for a factory job.
This is the main entrance arch into the convention grounds

There are four huge, hanger size, exhibit buildings which house hundreds of commercial exhibits. This view of one of the aisles gives a small glimpse of the size of the layout. One of the exhibitors was Mutt Muffs, ear protection for your dog. Light aircraft cabins are noisy environments and since a dog's hearing is much more sensitive than ours these seen like a good idea. The woman who owns the company says that when she picks up the muffs her black Lab knows that it is time for an airplane ride and is raring to go.

This Air Force B1B Lancer was on display for most of the week.

This Sikorsky flying boat is owned by the Johnson Wax company and harkens back to the day when the company searched the jungle wilds to find the carnauba waxes that the company is famous for.

A view down one of the lanes in the Fly Market. Airplane stuff, cooking pots, tee shirts, you name it you will probably find it in this section.




a few miles north of Oshkosh is this interesting store. Inside is it sort of a large Dollar store sort of place but outside is this collection of oddities.
The Blue Angels do not perform at OSH but did a few fly bys to show off.
One of the very few flying Lancaster bombers left in the world. This one is based in Hamilton Ontario, Canada.

A B-24 Mitchell bomber. This is the type of plane flown in WWII. by George Mitchell, Senator and Presidential candidate from South Dakota.
Prototype of the Honda light jet. As with pretty much all things Honda it is very pretty and looks like it will be a real popular addition to the Honda product lineup.

That's me, Errol Groff, towering over Ginny Rice. Ginny is the head honcho at the main registration building where tickets to the convention are sold and I have worked for her for many years. The convention runs on volunteers and I am happy to contribute 15 or 20 hours to the effort.