New England Model Engineering Society
12th Annual Model Engineering Show
Waltham, Massachusetts
16 February 2008
Our 12th annual show has come and gone. Attendance was good both from the exhibitor side and the public side of the tables.
The amount of work that goes into setting up even a small show like ours is awesome and I extend a sincere "thank you" to all who took part in the effort.

(L) Gene Martha and Vern Eshbaugh

Radio control tractor

This video clip from last years show

Alan Begbee (R) chats with another NEMES member


Dave Osier with his beautiful elbow engine.
Max BenAaron (L) and Steve Cushman


Les Russell (L) and Dave Bono
Items donated as door prizes for exhibitors
Ron Ginger (L) and Frank Dorian (C)
Norm Jones with



Sorry, at the moment I don't have the name of the artist/craftsman who make these items.
Russ Steeves (L) and Joe Ng
This photo is of a locomotive dome casting core and the casting complete with runners and vents.


Rollie Gaucher's son in law Steve showed his work at flute making. In the right hand picture are the various parts that make up the finished instrument.
This very nice steam boat was on display in an area that did not have enough daylight for a good photo but too much daylight for the flash to function. Darn.

cut away of a Model A Ford engine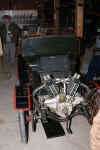 Museum exhibit