New England Model Engineering Society
Annual Show 18 February 2006
In addition to these pictures please check out Dick Koolish's page at http://www.dickkoolish.com/rmk_page/pictures_021906.html

Rollie Gaucher (L) and Henry Szostek
Todd Cahill (L) chats with another exhibitor

Dave Bono (foreground) chats with exhibitors
Sharon Cushman keeps track of door prize donations and winners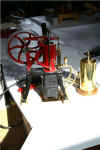 Photos left and center Errol Groff. Right photo sent by Al Goldberg

Ray Hasbrouck discusses one of his engines with a show visitor


Two of the unusual kinetic sculptures on display
Walt Winship built this version of the Quorn Tool and Cutter Grinder
Harvey Noel scratch built this hit and miss engine


Some views of the crowd at this years show
Part of the museums exhibits is this watchmakers bench

Rear view of Rollie Gauchers Bently Rotary engine

Ron Ginger recently completed this engine.
This young woman chatted so long with Dave Stickler I thought that he was running on the old Stickler charm full blast. Turns out she is an engineering student and was discussing the properties of steam engines.

Nifty remote control bulldozer. Note the height of the table top just behind the cab.

Al Goldberg photo of one of Todd Cahill's beautiful engines



Al Goldberg photos of the museum areas
Portable spinning wheels (Al Goldberg photos)

Al Goldberg took this photo of the new plumbing in the show hall which is also our regular meeting hall. This complex was not here when we had our regular meeting on February 2nd. I should imagine that the pipe fitters who install this sort of thing bless the person who invented the clamp on fittings.