North American Model Engineering Society
Toledo, Ohio U.S.A.
19 and 20 April 2008
This is written on Monday evening, 21 April 2008. Just returned from Toledo, got the car unloaded, set things out for school in the morning and set to work processing photos of the show for these pages.
We had a great trip. Saw lots of really great models, talked to quite a number of folks with whom I correspond on various bulleting boards and on the usenet. The NEMES members in attendance had two very nice dinners out on Friday and Saturday night, lots of fellowship and some really good food.
As usual the fellows of NAMES ran a great show. Well organized and great fun to be at.
If you recognize your work (or your pals work) and it is not properly credited please don't hesitate to get in touch and provide corrected information. I will, of course, immediately make the correction on these pages. errol.groff@snet.net
These video files are BIG. Sadly if you are on dial up you probably will have to pass on trying to view them but there is a balance to be made. If I process the clips so that fellows with slow connections have a chance to view them they are so degraded that there is not much point is looking anyway. I am very please with most of these clips and hope that many of you will enjoy them.
I find that on my home computer (DSL) I have good result with clicking on the icon and going to something else while the clip loads. An alternative that also seems to work well is to right click on an icon and download the clip to your hard drive then view the clip using your choice of viewer.
A lot of time went into creating these clips and I would welcome some feedback about them Too long, too short, too big etc. My email address is a couple of paragraphs above.

Double Murdock

Ryder Ericsson

Swash Plate Engine

Engines_1

Engines_2

Engines_3

Engines_4

Engines_5

Engines_6

Engines 7

Engines 8

Engines 9

Engines 10

Engines 11

Factory Engine

Slinky

Wooden engines

Green Engine

Case Tractor

N Gage Train

Brass Loco

Grinding Wheel

Fans

Donkey Engine

Jimmy Sterner's Engine
NEMES founder Ron Ginger explains the working of a CNC machine to a show visitor.

Friday night dinner was at the world famous Tony Paco's. In the second photo is Max Ben Aaron. Next is Terri Groff outside the restaurant.
This great looking engine started out life as a compressor. The builder said that since it had a crankcase, cylinder and a piston it was practically an internal combustion so he finished it up.

"locoguy" on the Practical Machinist board sent this info:
The Planer down eight rows in the picture link is confirmed Hendey machine serial number 3. No rust, original paint, virtually virgin condition. Did not ask owner the price of his recent acquisition.


Left most photo is Mr. Ginger Sr., Ron Ginger and his brother Ken. Other photos are various permutations of the three talking with other NEMES members.
Another great looking radial engine
L to R are Norm Jones, Errol Groff and Tom Horch. Pushing their way into the shot are Roy Bear and Eddie Moose. I met Tom at the EAA convention in Oshkosh Wisconsin in 1978. We stuck up a friendship and have been meeting there most every summer since then. Last year Norm traveled with the to OSH (the official abbreviation for the airport) and met Tom. We had a GREAT time! Roy and Eddie are my travel companions (along with my wife).

One thing I really like at NAMES is that at 9:00 AM before the show opens things fall silent while the national anthems of the United States and Canada are played.

This nice work is done by Phil Oles who just recently started in our hobby. Very nice work Phil!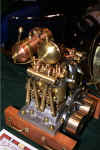 Polished brass engines look great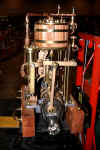 My apologies to the builder of this great looking engine. I had thought it was a Pearl engine but just received this message from Pearl Engines: .
Hello Errol:
I visited the NAMES images and offer a correction. None of those shown under "Brass engines" and "Pearl Engines Of Vermont" are by my Pearl Engine Company (
www.together.net/~pearleng
). Nice looking but, not mine.
Thanks,
Roger Grosser
Pearl Engine Company
If someone has the correct information about this engine I sure would appreciate hearing from you!
This great display is mounted on a BIG valve from a giant air compressor
Cam-less 4 cycle engines. Valves are controlled electronically and timing can be altered as the engine rises and falls through the RPM range.
Just the thing for a hall monitor at the average high school.


It has become tradition for Rollie Gaucher and Dave Osier to pose with the boys at every show. Unfortunately Dave came down with a severe medical problem just days before NAMES and was in hospital at home instead of with us at the show. Frank Dorion was a good sport and stood in for Dave in the photo.
This was as many of the NEMES members in attendance as we could corral at one time. L to R are Rollie Gaucher, Frank Dorion, Max Ben Aaron, Ron Ginger, Norm Jones and Errol Groff.