Larry Simoneau's Kozo Shay Locomotive
4 March 2006
I went to Larry's home today to look at a South Bend Heavy 10 lathe that he is selling and I was interested in. While there I took a few photos of his Shay loco and another loco he had in the basement.
Yes, I bought the lathe and now have to wait for the snow to melt from in front of my basement bulkhead doors to get it home. It is a bit scruffy looking but seems to be in good mechanical condition and sprucing it up will be an interesting project.

This Shay is a 2x version of what Kozo shows in the book on building this engine
Driving gear

Side view into the cab
Cab valves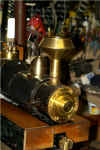 This is the other engine I saw but I don't know what it is.