Mass College of Art Iron Guild Pour
Saugus Iron Works National Historic Site
Fathers Day, June 18, 2006
Today dawned hot and was forecast to only get hotter. We headed off to the wilds of Sauagus MA to watch members of the Iron Guild conduct a demonstration pour of cast iron. Much my delight when we got there we found a number of other NEMES members in attendance and a fine, if hot, time was had by all.
The Guild did a fine job of demonstrating and explaining the process of iron pouring and their efforts were very much appreciated.
Here the cupola is being charged with some of the ingredients that make up a melt.

I didn't realize until I was processing these photos that the cupola had this humorous appearance.
A mold is being prepared for casting.
Today's molding took place for the most part in scratch molds. Blanks were prepared before hand and those in attendance could scratch or carve a design into the mold.

The crucible is placed atop the cupola to pre-heat. All moisture must be driven off from the crucible since any moisture can flash to steam when the iron is tapped into it causing a dangerous explosion.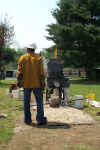 The molten iron is held in the cupola by a clay plug. When the molten iron reaches proper temperature for pouring the clay plug is tapped our. When the liquid iron is drained from the cupola an new plug is inserted and the process repeats.
After watching the first pour I went off to look at the rest of the park. The Iron works is a recreation of the original site.
20 June 2006 Update
Just received these photos from Bill Brackett. Bill returned to the Iron Works on Sunday hoping that he could get a mold poured with the Charles River Museum of Industry ingot pattern but unfortunately although two pours were made on that day the supply of cast iron ran out before Bill's mold was poured.
Ramming up the mold box
Ramming up the mold box
Box sitting in the pour line

Open box, ready to be poured
A round up the usual suspects!
A goodly number or NEMES members were there. From left to right are Rich Koolish, Vic Kozakvich, Les Russell, Sue Brackett (holding the camera), Mrs. and Norm Jones, Bill Brackett (rear), Rich Puleo, Errol Groff, Frank Stauffer, and last but not least our new club president Dick Boucher and his wife. This photo taken by Terri Groff