Gerald R. Ford Presidential Library
Grand Rapids, Michigan USA
On 9 August 1974 became President of the United States under the most difficult of circumstance. He conducted his Presidency with the same honor and dedication with which he had served his country for many years as a United States Congressman and before that in the U.S. Navy during WWII.
President Ford is, and will always be, one of my personal heroes.

This sculpture remembers Ford's days as a lineman at the University of Michigan

Recreation of Ford's oval office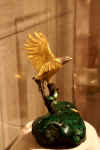 Some of the many gifts received by the President during his time in office.

A section of the Berlin wall


On the left is the Profiles in Courage Award granted to President Ford.
The Presidential seal

Gerald R. Ford's final resting place
View across the river of downtown Grand Rapids.