The Collection of Historical Scientific Instruments at Harvard University
http://www.fas.harvard.edu/~hsdept/chsi.html
View this page with a plain background HERE
On Friday 30 March 2007 I my wife, Terri, and I headed up to Boston MA to visit the Harvard University Collection of Historical Scientific Instruments. Located in the science building (1 Oxford Street) on the sprawling campus of the University we once again were thankful for our Magellan GPS navigation gadget. The device guided us through the narrow and confusing streets of Cambridge right to the door of the museum. Then we got REALLY lucky and found a close by parking spot in the crowded area.
The museum is not large but is very interesting for those interested in such things. The day we were there was during the school's spring break and the upstairs part of the collection was not open due to lack of staffing. Well, that gives us a reason to return some time soon. There is no admission charge but even if there was it would be well worth it.
The museum is focused on the measurement of time, life and matter. I am always amazed at the beauty of antique instruments and the ability of those long ago craftsmen to create such beautiful and amazingly accurate devices.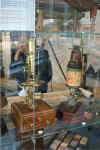 Most of the instruments are in glass display cases. In many cases I was able to shoot from an angle that minimized reflections but not in this case.
The Galton whistle has come up in several discussions over at rec.crafts.metalworking. I would love to make one but have been unable to find any drawings of the parts. If you know of such drawings please get in touch with me. errol.groff@snet.net

Lunch at Durgin-Park restaurant and a bit of shopping in the Haymarket district and we headed home. The gal in the left hand photo is my very patient and long suffering wife Terri. Middle photo shows the restaurant dining room and the last photo is of a van that was parked near the restaurant. Durgin-Park is within sight of Faneuil Hall, location of some of the most fiery speeches and important political rallies of the United States Revolutionary War. It may come as a surprise to some but Sam Adams was a real person, not just a brand of beer and ale.