Cabin Fever Expo
April 13 & 14 2013
York, PA
http://www.cabinfeverexpo.com/
Page 1
Slide Show Part 1, 2, 3, 4, 5, 6, 7, 8, 9, 10, 11
Slide shows are broken into sections of about 80 images
This was the first year for Cabin Fever Expo since the date were moved from January to April. Of course I don't know any details about the attendance or success of the show but it seemed to me that the show was a success. Traffic seemed very heavy on Saturday and moderate on Sunday but it is difficult to be sure since one aisle can be quiet and on the other side of the divider it could be jammed packed. All in all, as I say, it seemed a good move for the show. The addition of outside exhibits was nice and we had a great time overall. The usual bus trip from the Boston area did not take off this year, not sure why, but the attendance of folks from NEMES seemed hardly diminished from passed years.

This will be multi page presentation with about 160 photos on each page. I am far behind the curve with so many photos to deal with from our trip to CF and NAMES and other events this past week but progress is being made!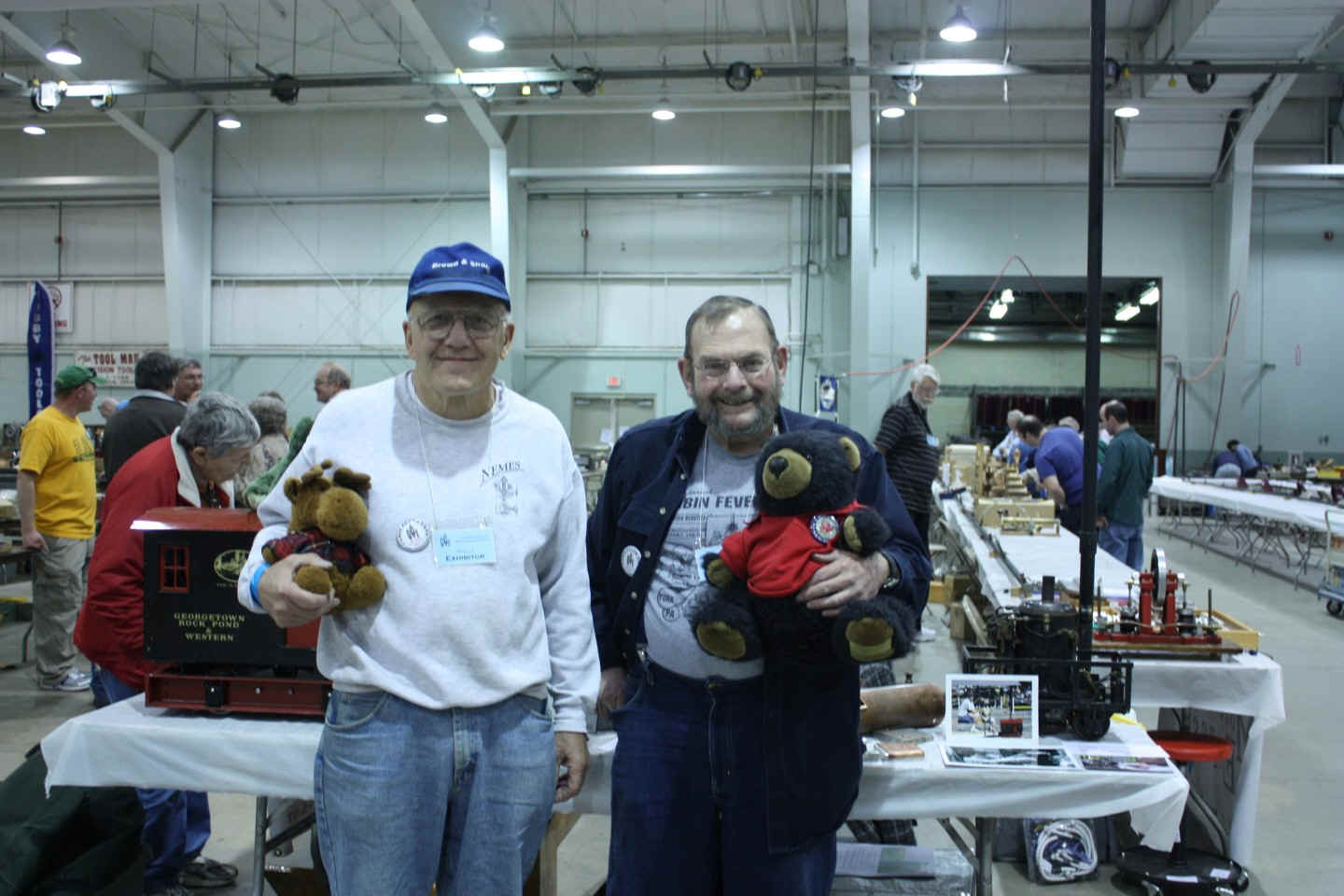 Although Rollie Gaucher was unable to attend Cabin Fever this year due to family obligations Rolly Evans stepped in to fill his spot in the traditional Roy Bear, Eddie Moose, Rollie and Dave Osier photo. Thanks Rolly for being a god sport! The rest of the story was that when Dave was around Rolly wasn't, when Rolly was there Dave wasn't. Then I was off taking photos when they were both at our area so Vern Eshbaugh pitched to take this photo. Thanks Vern!
If you see your exhibit or machine and would care to drop me a line or two, or even a paragraph, about it I will be delighted to add your comments to this page. Please send to webmaster@neme-s.org To identify a photo just hover your cursor over the photo and a tag should pop up. Please use the last three digits of the tag to identify the photo. For example if the tag came up DSC03974.jpg (205067 bytes) the info I would need is 976.jpg. If this is a multi page unit the page number would also be useful.
Correspondence to: webmaster@neme-s.org