Cabin Fever Expo 2008
York, Pennsylvania
19 and 20 January 2008
Well, another Cabin Fever has come and gone. The show was held this year in the Toyota Center at the York Fairgrounds, a larger and brighter venue that the previous building. Although there was more room in the two halls at time is seemed as crowded as in years past which would seem to indicate a great turnout for the Expo.
My wife, Terri, and I got there with the boys on Friday afternoon and set up my "stuff" in the area which Ron Ginger, who had gotten there even earlier, had marked off for the NEMES group. This year more than thirty NEMES members came down on a charter bus from the Boston area and we managed to occupy an entire length of tables with a couple of fellows spilling over onto the next table section.
These are the photos I took with some video clips to follow in a few days. We will start off with the traditional photo of Rollie Gaucher and Dave Osier with the boys.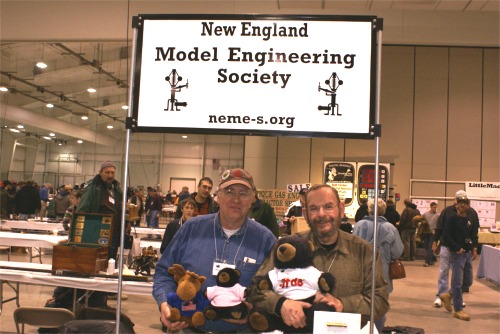 Video Department
| | | | |
| --- | --- | --- | --- |
| Bumble Bee 1 | Bumble Bee 2 | Harold Siebert | Three Engines |
| More Engines | More Engines | More Engines 2 | Sterling Cycle |
| Portable Highline | | | |
NEW NEW NEW At our March meeting Norm Jones handed me a CD with his photos of Cabin Fever 2008. They may be seen HERE
Photos by Errol Groff unless otherwise labeled
This Union Pacific "Big Boy" is being built by CALS member Steve McDonald. For those who don't know Steve please be aware that this enormous project is being undertaken by a fellow who also works as an auto mechanic from his wheelchair. I guess it proves once again that we are capable of doing just about whatever we make up our minds to do.

Ernest Smith the creator of wooden wonders
Russ Steeves (C) chats with a couple of other fellows
Jim Voldening is the builder of these very neat small engines
Neat display of very small I.C. engines

L to R are Eddie Moose, Roy Bear and Miss Taffy Bear
Ernie Smith (L) and Ray HasBrouck


Ron Ginger converted a small mill to three axis CNC control and it was raffled off on Sunday afternoon. I held a ticket for the third prize in the raffle and picked up a nice Phase II digital caliper.
T
hat is NEMES president Dick Boucher sitting

The boys kept a close eye on my display, however they are not much help at answering questions.

Dave Bugbee displays his beautiful ornamental turnings
Russ Steeves shows something to a show visitor
Seated is Frank Stouffer and standing is Rich Hubbard

(R) is Todd Cahill, NEMES secretary
Rich Carlstadt was surrounded by a swarm of admirers while showing his Ericcson engine from the U.S.S. Monitor. Also on display was Rich's hypocycloidal engine. Designed by the brilliant English engineer Murray the engine features many innovations which enabled Murray to work around James Watts patents which has the early steam industry in a vise grip. Pictures of Rich's Green Bay Wisconsin shop are seen at http://neme-s.org/Oshkosh_2007/Carlstedt/rich_carlstedt.htm
I have had an inquiry about this engine. Owner, builder, type of engine and so on. If you can supply any info it will be greatly appreciated. Please send to errol.groff@snet.net
The boat ponds were consistently busy over the two days with a wide variety of craft.
One of my correspondents asked for photos of the inner works of steam powered model boats
Frank Dorion (L) and Dave Osier chat