Cabin Fever Expo 2007
January 20, 21 2007
View this page with a plain background HERE
This page is posted on 25 January 2007. I had at the show my new Panasonic video camera and am about to start figuring out how to get the pictures out of the camera and onto the web. Please check back after a while to see if I have been successful in that effort. The video clips will be available in the streaming format so that long download time should not be problem. I hope.
4 February 2007: I haven't had much luck with the streaming video yet. Just not satisfied with the quality of the picture after compression for streaming. Let's try this instead.
8 February 2007 Your computer may allow you to click or double click on the links below and start the video clips right away or you may have to do the following:
Right click on the link you want to use. Left click on "save target as" and select a convenient location on your hard drive to send the file.
I must apologize for the quality of the video clips for you dial up folks. In compressing the file to make it practical for the dial up user the quality of the picture really suffers. Again I apologize but don't know yet what to do to improve her situation.
I am continuing to work with the video program and will have more clips up shortly.
Friday Afternoon clip. This clip is meant for users with broadband access. The file size is about 16.4MB
Friday Afternoon clip. This clip for the 56K folks. File size is about 2.2MB
Short Clip 1 for broadband Short Clip 1 for dialup
Short Clip 2 for broadband Short Clip 2 for dialup
Short Clip 3 for broadband Short Clip 3 for dialup
Short Clip 4 for broadband Short Clip 4 for dialup
Short Clip 5 for broadband Short Clip 5 for dialup
Short Clip 6 for broadband Short Clip 6 for dialup

Beautiful work by Doug Kelly of Lake Wylie S.C.
On the left, that's me, Errol Groff, setting up at the NEMES area. Next are Roy Bear and Eddie Moose keeping an eye on my Double Murdock Engine. Ed guards the whistle display and finally Roy next to the steam engine. You probably can't quite see it but Roy is wearing his T shirt from the Iowa State Fair. Those boys do get around! Finally my wife and favorite traveling companion Terri and the boys.
I have started building Ray HasBrouck's #8 engine. The frame is machined and the cylinder blocks are partially done.
The auction was going strong when we got there Friday afternoon and continued for a LONG time.

The Submarine Committee was well represented. The U5314 is a model of a WWII German two man submarine.
There were many model trains running on elevated tracks.


I can just see building one of these in the shop at school. The powers that be would have a kitten. No one has a sense of humor any more!
(L) With his back to the camera is Steve Peters talking to Rick. Next photo is Ray HasBrouck, master engine designer and craftsman. Next is Frank Stauffer and finally (R) is Norm Jones, past president of NEMES chatting with a show visitor.
The boys rarely have any problem getting hugs from the pretty women!
On of two beautiful tanks. About 24" long not including the main gun
Rich Sobol, NEMES member and T-shirt purveyor. My wife describes him as the "best T-shirt dealer ever.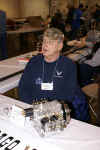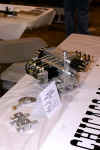 Ed Smerz built this beautiful engine. No castings
This set up demonstrated the machining of a small bevel gear. The microscope was necessary to see the workpiece.
(L) A really poor photo of Dave Strickler, next are Harvey Noel and his wife, followed by Ron Ginger in conversation and finally Rick ??? in conversation with a show visitor about his beautiful hot air motor fans.
Collection of model airplane engines


Ron Newman encourages show visitors to try their hand at the anodizing process. Ron sells anodizing supplies and a very informative manual about the subject. http://www.focuser.com/atm/anodize/anodize99.html



Dick Boucher, NEMES president, and first time Cabin Fever Expo exhibitor had this clever angle plate that he made as an apprentice project more than a few years ago.
The fellow with the beard is Gary Schonley the fellow who pus on the Expo talking with Bob Cumings owner of New England Brass (wearing the hat). http://www.brassandtool.com/

This engine is a work of art to say the least. I don't have the patience for that level of polishing that's for sure.
A well made overhead valve model aircraft engine by Rick Dracikiewicz
Thanks for visiting this page on the New England Model Engineering Society web site.