Explorer of the Seas visits New London CT
On September 1, 2007 the largest cruise ship to date visited the port of New London CT. Arriving at about 7:00 AM and departing at 7:00 PM the visit attracted a huge interest among the citizens of south eastern Connecticut. I had intended to get up early and photograph the arrival but events conspired to prevent that. I was able to get down to New London in the evening however to take some photos of the ships departure.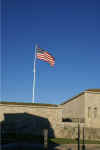 Old Glory flies over Fort Trumbull in New London CT

The ship spent the day at the State Pier just south of the Gold Star bridge that spans the Thames River. The bridge, which can be seen in the background, carries Interstate Route 95 over the Thames. Around here we pronounce it as Thames which rhymes with dames.
This Coast Guard Cutter calls New London home.
Directly across the river is the Electric Boat shipyard. Building submarines for the U.S. Navy since before WWII the shipyard is an important art of the economy of the area.
Just down river from E.B. is this Pfizer Pharmaceutical plant.
The U.S.S. Eagle is the training vessel of the Coast Guard Academy which is just north (upstream) of the Gold Star bridge. Taken as a prize of war from Germany after WWII the vessel was formerly named the "Host Wessel" When it was in the German navy it was also a training ship for cadets.
Ferries run from New London to Point Orient on eastern Long Island and also to Block Island.
At 7:00 PM the ships horn blasted and the ship promptly set sail down the river. the tower seen just over the bow is the Fort Griswold Memorial. On 6 September 1781 British forces attacked the city of New London and Fort Griswold on Groton Heights. After the fort surrendered the British slaughtered the remaining troops in the fort. Or so the locals claimed.
Passing the Eagle