Bernardston, MA
24 May 2008
View of part of the flea market area

The neat thing about old engine shows is that you are likely to see most anything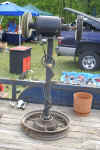 NEMES member Dave Osier has been under the weather for a while, having to miss the big show in Toledo last month, but is feeling better and is able to get out and around.
Norm Jones' Mery Engine. The Mery was a sort of hybrid when industry was moving from steam to internal combustion. The engine is double acting like a steam engine but gas fueled.
Lawn tractors of every description were on display

Economy engine

Pump engine followed by rope making machine

More engines
Very pretty McCormick-Deering tractor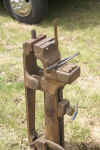 Blacksmith vise

I have no idea what this is.

Rollie Gaucher

Standing, in the white shirt, is Russ Steeves and in the dark shirt is Rich Hubbard
When Dave was a kid he got one of these model engines so he was delighted to find on at the show.

Since Dave was not able to go to Toledo he missed the traditional photo op with the boys, Roy Bear and Eddie Moose so we made up for it today. The boys were delighted to see their freinds Dave and Rollie.


It never ceases to amaze me what folks will collect.
Kid sized crawler
I recognized the nice boiler from last years Pepperell show

Rack and pinion for raising the dump body of this coal delivery truck