Greenfield Village at the Henry Ford Museum
Dearborn Detroit, Michigan USA
We have visited the Henry Ford twice and Greenfield Village four of five times. My favorite building in the Village is the Armington and Sims machine shop. Henry Ford collected buildings from all over and brought them to Dearborn Michigan for the public to enjoy. And I sure do enjoy the machine shop.
Unfortunately the machine shop is laid out so that as you walk through it you pretty much only see that backs of the machines. I did some investigating and learned that for a fee the museum would assign a minder to watch me take pictures from the operator side of the equipment. So, for a mere $125.00 (£62.50 for out British brothers) for the first hour I signed up. The next hours would have been $75.00 per but the budget ran dry after one hour.
Here are the pictures. The lighting is not very good for photography in the Armington and Sims building and I need to get a more powerful flash unit for the excellent Sony Alpha DSLR that I am now using but one makes do with what one has.
Large shaper

Drill sharpener. Looked like it could easily handle a two inch drill

Shop organization. Sure wish I could get my students to do this.

The relatively fine thread on this lead screw caught my eye.
There was quite a maze of belts to run this drill press

Thomas & Lowe Machinery Company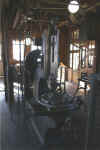 Some call this a slotter. I call it a vertical shaper. Spent many months learning how to run this type of machine during my apprenticeship at Pratt & Whitney Machine Tool in West Hartford, CT when I was a lad. We had two machine, one with a rotary table that would disengage and the other with a RT that did not disengage. I can tell you for sure that you get real good at aligning parts when you have to crank the table through 360 degrees.
Two massive clamping tools (don't know the correct name) for putting the alligator clips on leather belts.
No idea whatsoever what this is but it looked neat and couldn't move out of my way so it got photographed.
My first impulse was to call this a vertical turret lathe. But since it doesn't have a turret I guess that would not be correct.
Planers, just pick the right sized one for the work you need to do.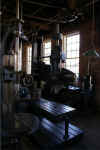 Medium sized radial arm drill
Small stamping press
Number 31 Lucas Horizontal Boring Mill. I admit it. I really love boring mills. Spent a lot of time running them at P&W Machine Tool, more time at P&W Aircraft and still more time on one at the Electric Boat division of General Dynamics in Groton, CT. That one had a platform on the head so the operator could ride up the column with the head. Column must have been 20 feet tall and the table was the size of a not so small room.

I took this fixture to be for grinding something like wood planer blades.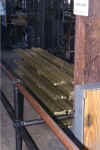 This small turret lathe is used to make small candle stick holders. The public is invited (for a small fee) to make on to take as a souvenir.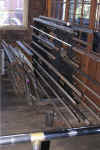 Stock rack
I am a push over for old chests.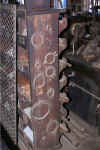 Rack of O.D. grinding dogs

Facade of machine shop