American Precision Museum Show 2007
27 October 2007
This years show was held on a rainy day in late October. The event coincides with the closing of the APM for the year and while I don't know what the attendance was compared to other years the hall seemed busy for most of the day.
Here are the photos and video from the show. As always of anyone has photos they would like to contribute please forward them to me and I will add them to the page.
Dave Bono chats with a visitor. The model directly in front of Dave is his model of the cider press located at Clyde's Cider Mill in Old Mystic CT. http://neme-s.org/Clydes_2006/clydes.htm This link will take you to photos of Clyde's that I took last fall.

Rich Hubbard's HasBrouck #8 engine

Rifling Machine Demo

Some models and a show overview
Norm Jones chats with show visitors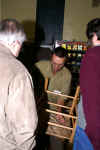 In one corner a fellow was demonstrating old timey chair making.


Harvey Noel, Rollie Gaucher and Ron Ginger

Todd Cahill chats with show visitor
Pattern board for casting