NEMES June 2006 Regular Meeting
Ron Ginger (in the checkered shirt) just returned from the second annual CNC Workshop at Cardinal Engineering in Illinois. He brought back a number of leadscrew sets and other goodies and had a trunk sale in the parking lot before the meeting. That would be a "boot" sale for our British cousins.
Ron and Dick Koolish stroll across the bridge which crosses the Charles River to the musuem side from the parking lot.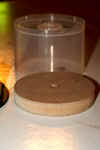 This clever use of old CD packaging. You can store a LOT of small tools in this fashion. Not only that they stack nicely.

President Norm Jones (R) presents a $1,000 check to a representative of the Charles River Museum of Industry. The museum allows us use of the meeting room at no cost during the year. Our annual show (third Saturday of February) brings many visitors to the museum and when our treasury starts getting out of hand we are pleased to present the museum a token of our appreciation for all they do for us.
One of the current projects the museum is involved in is the building of a replica loom to show the public what sort of equipment originally would have been found in the mill the museum is located in.
Member Al Goldberg gave me this picture he took at the recent Eastec show in Springfield MA.
These following photo sent in by Earle Rich
Norm Jones and Bill Brackett were able to make a visit to Burkart-Phelan, Inc., flute and piccolo makers in Shirley, Massachusetts Jim Phelan, our June speaker is a co owner of the company. Here are some pictures that Bill sent in of their visit.