NEMES July 2006 Membership Meeting
July is one of out twice yearly "poster sessions" when members have an opportunity to display projects they may be working on or think that others may find them of interest.
While walking into the meeting hall I found these Canada Geese cluttering up the walkway. there are most always ducks of one sort or another in the Charles Rives that runs by the museum but this is the first time I remember seeing geese. IMO they are filthy, annoying critters that ought to go away and not come back. Just my $.02 of course
Either we were early, or the folks with the keys were behind the power curve, and about a dozen members gathered outside the doors and had a pleasant conversation before being let into the building.
Left to Right are Vic Kozakvich, Gazette editor, Norm Jones, esteemed past president and Dick Boucher, current Grand Potentate of NEMES

Norm Jones chats with Gale Martha who was dishing out sodas and cookies. Yea Gale!
The hand tools and planes are the work of Frank Dorian

This is a rear end for a Stanley Steamers automobile
A Brass Cannon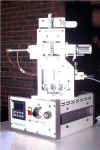 Earle Rich built this device for pulling sapphire rods.