February 2006 NEMES Meeting
Ron Ginger started working on the loco last November. Just shows to go how much a retired person can get done when he puts his mind to the task. Ron talked about the building process and stated that he was determined to follow the plans on this engine. He then promptly followed with a list of modifications that he had made. Ah, the best laid plans. The third and fourth pictures are screen shots from the digital projector that the club purchased last year. Using it really adds to a presentation like this.
One of our members is a real tinkerer in electronics. These are a couple of his latest gadgets
Some of the pre meeting kibbitzers.

A general view of part of the membership during the start of the meeting. The built in flash on the new camera is just not going to cut it. A new and much more powerful unit is on the short list of new gadgets to buy.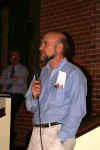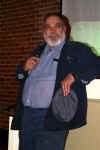 Left to right Norm Jones, Vic Kozakevich (editor of the NEMES Gazette) and Dick Boucher
Norm Jones introduces the speaker for the meeting, Rick Selah. Rick is an applications engineer for the Stannah Stairlifts. Rick talked about the design and manufacturing process for making stairlifts. It was one of the more interesting talks (just my opinion of course).
The center picture is the aluminum extrusion that is used in a standard installation. The next shows a custom built dual rail for going around a corner and the last picture is a screen shot of a drawing that shows all the detail for a custom installation. There will be a through write up about the talk in the March Gazette.
If you don't know what a stair lift is or want more information please go to http://www.stannah.com/us/