NEMES December 2006 Membership Meeting
To view a plain background version of this page click HERE
Before the meeting was called to order a number of lively discussions were enjoyed by member throughout the hall

This is a palm sized model of a marine V8 engine
Hidden behind the cluster of check writers is Dick Koolish NEMES treasurer. December is dues paying month and also sign up for the Cabin Fever Expo bus trip.
Esteemed leader Dick Boucher called the meeting to order promptly at 7:00 PM

My long time friend Dave Osier has not been seen for several months so I snuck this photo of him.
Before the speaker takes the floor members are invited to "show and tell" about projects they might be working or about interests they may have that would be of interest to the rest of the group.
Ed Rogers showed off the crankshaft to a model Crosley engine he is building. The screen shot on the left is made possible using the video camera and projector that the club purchased a while back. Money well spent and thanks to the guys who came up with the idea.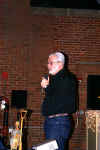 Our speakers for the December meeting were to talk about Automatons. that is animated figures.

This picture of an Automaton from 2000 B.C.
Marvelous mechanism enclosed in one of the figures.